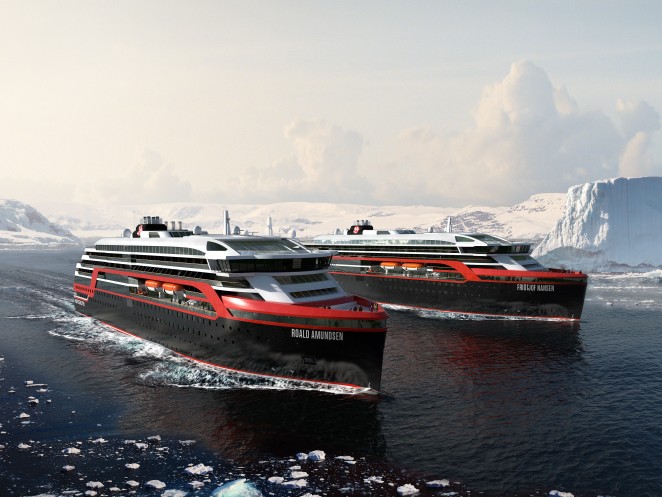 Hurtigruten Hybrid Expedition Ships
3 panoramic passenger elevators (1350 kg capacity / 1.0 m/s speed / 20 m travel height)
1 passenger elevator (1400 kg capacity / 1.0 m/s speed / 23 m travel height)
4 service elevators (up to 1600 kg capacity / 1.0 m/s speed / up to 23 m travel height)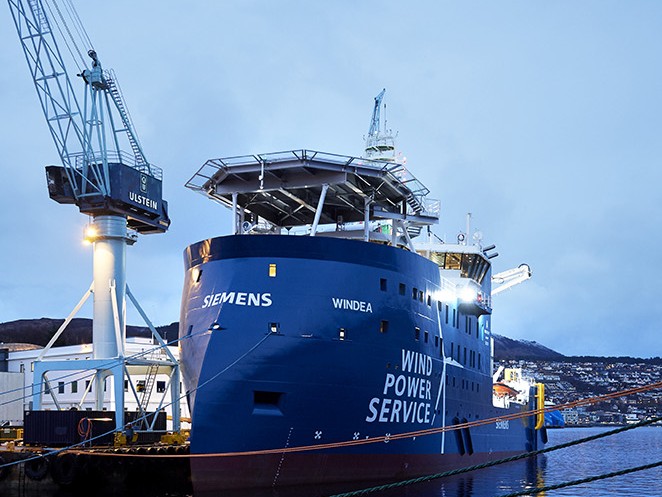 Ulstein 310 Service Offshore Vessel
1 service elevator / 1000 kg capacity / 1 m/s speed / 4 stops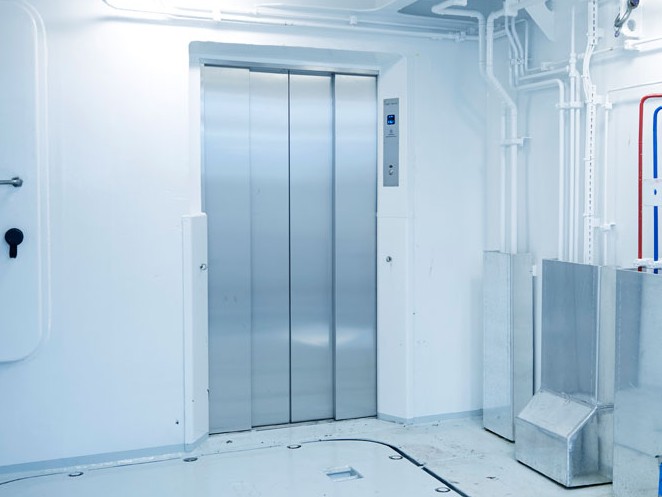 Ulstein 310 Service Offshore Vessel
1 service elevator / 1000 kg capacity / 1 m/s speed / 4 stops Make your vision reality
Whether you need a striking panoramic elevator, a simple service lift or an escalator, we work closely with you to make your vision a reality. A broad selection of materials and design options, along with high-quality components, give you the freedom to make your wishes come true.
Elevators for people on the move
From ferries to luxury ships, our space- and energy-efficient solutions move people and goods smoothly and cost effectively around the clock. Intelligent traffic control systems optimise your elevators' operating efficiency and minimise waiting times. Our industry-leading regenerative drives feed energy back into your elevator system for reduced energy consumption and costs. And we pride ourselves on delivering as promised – on time and within your budget.
No marine environment is too rough for our standardized or highly customized elevators. Our approved solutions perform reliably around the clock, meeting the highest standards and ensuring your peace of mind whatever the weather and seas.
Our elevators and escalators deliver a flawless experience
Your passengers, including those with reduced mobility, expect a flawless experience from the moment they embark on your ferry, supply and service ship or luxury cruise vessel to the final disembarkment. Our marine elevators and escalators help you provide the seamless experience today's passengers demand.
We pull out all the stops to deliver solutions that are ultra-comfortable, -accessible, -reliable and -quiet. Standard and customized passenger and service elevators as well as escalators optimize the space available on-board. That ensure the efficient flow of people, luggage and provisions between decks. That keep crews and goods safe while standing up to even the harshest marine environments.
Our offshore elevators are rugged enough for the toughest jobs
Oil rigs and other offshore structures such as windmills pose numerous challenges. Our heavy-duty offshore passenger and service elevators are specifically designed to address the risks of harsh and hazardous environments. At thyssenkrupp Elevator, we design, manufacture, install and service the elevators you need to get the job done in the roughest seas and storms.
Our powerful hydraulic and traction elevators dependably move crews and materials between decks around the clock. Our lifts are highly flexible and readily integrated into your offshore site.